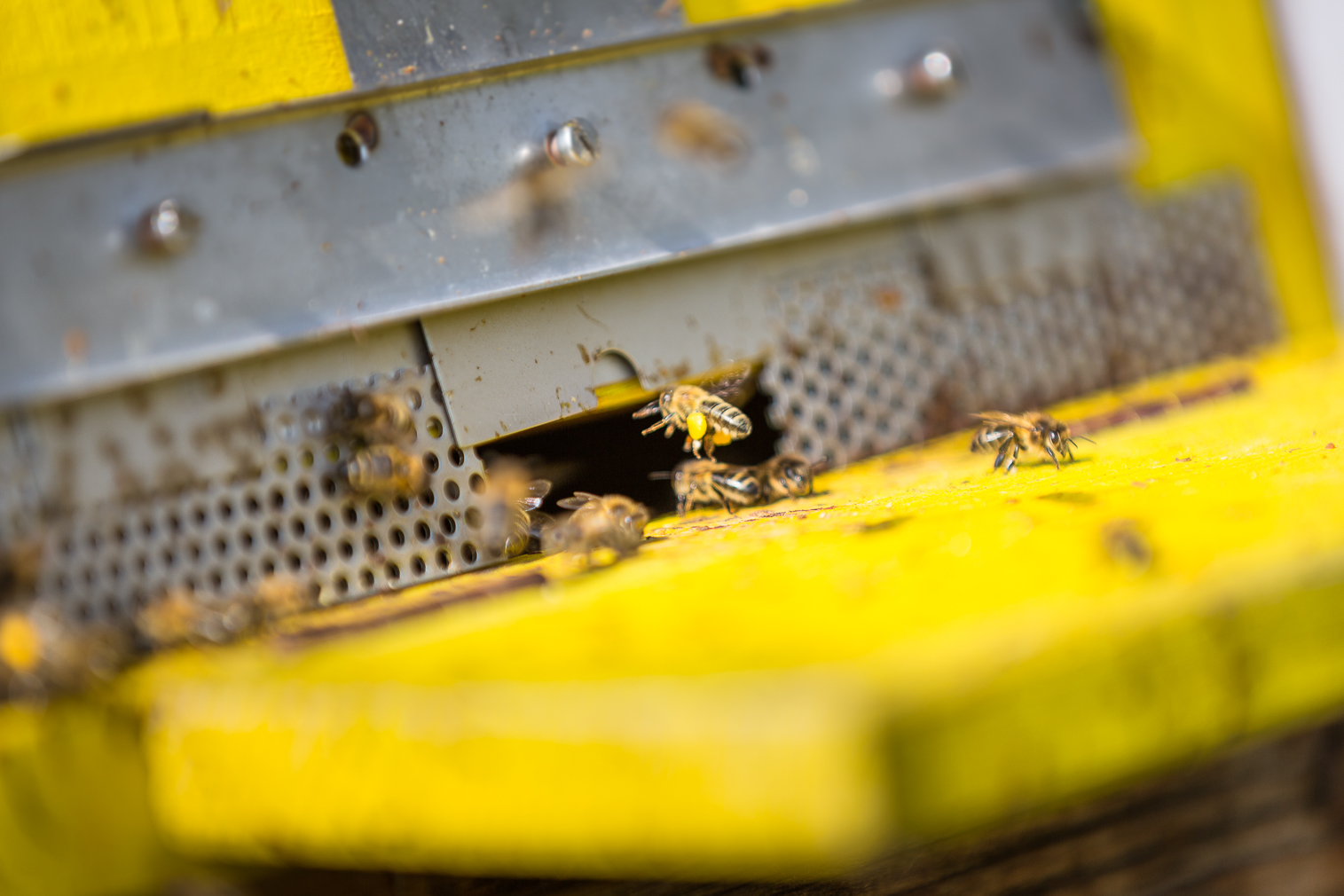 Nº 103
Where in the World is Work Headed?
I spent two eventful days last week with thought leaders from around the globe at the home of the International Labour Organization. The topic du jours? The future of work. Unsurprisingly, we had plenty to discuss: What does work mean going forward, how is it tied to societal realities, how do we better distribute income, drive inclusion and equality, how can we better balance exercise of power with accountability, how is work going to be organized, what will the workplace look like, and how should work practices and leadership styles evolve in the 21st century.
In many articles, here on Whirling Chief and on other platforms, I often bring up the topic of leadership and how it is now a concept universally available to anyone. One of the key attributes of leadership is to serve others through sharing.
Share of  smiles, share of humanity, share of caring, share of knowledge, share of information, share of learnings and of success moments…In that spirit, I, too want to share something with you: my notes from our discussions.
First, a bit of background. As the world is inevitably going through major changes, to understand and to respond effectively to new changes in the workspace, the International Labour Organization launched a "Future of Work Initiative" back in 2013. Serving its core mission with this initiative, ILO is looking to further advance its mandate for social justice, while at the same time help us get in front of some much-needed research on workforce preferences.
There were four major parts to our discussion, plus a special session focusing on youth.
Meaning of Work
Work and Society
Organization of Work
Governance of Work
Meaning of Work
In this session, we discussed in detail what we consider work today vs. historically, whether we see work as necessary, and how it is perceived and experienced in different geographies. We even questioned whether work is compatible with human nature and where it starts/stops in relation to leisure.
There is an obvious past/ future delineation here, which I tried to capture in a small chart below: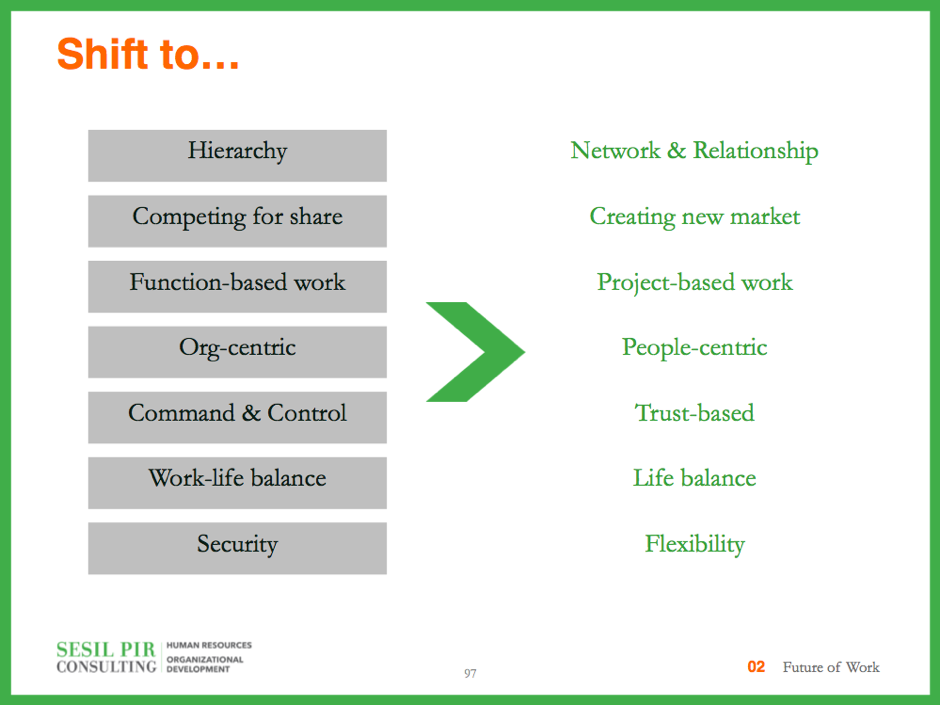 The very key take-away is that people today are looking for three main things to experience work as anything close to 'fun':
Autonomy
Mastery
Purpose
Work and Society
In this session, we discussed long and hard about social-political, economic, and technological advancements, focusing on how we can best provide 'decent' jobs for the majority across the globe. We debated where jobs may come from in the future, what they may look like, how they will continue evolving in the market, whether automation is really going to take over, and how we can provide better equity for all workers.
We busted a lot of myths. Take the canard of work hours increasing. In actuality, they're decreasing very fast, and the job gap is also decreasing. Why, in G20 countries alone, we have ~54 million unemployed today.
We weighed in on very heavy factors such as changing demographics, migration, unpaid work (including internships – and while I'm at it, may I ask all my executive colleagues to stop offering unpaid internships to our youth?!) and gender disparities.
Organization of Work
In this session, we discussed what the new forms of employment will look like, whether and to what extent employee-employer relationships will continue to focus on 'protection,' when may be a good time for us to move into a capability-building model (for sustainability) vs. offering representation, how the cooperatives may take shape, etc.
I think it was during this topic when conversations got heated several times and even Ambassadors from multiple countries asked some challenging questions.
There is a very harsh reality we all face here: the fact that a competitive advantage exists where a few brands dictate how goods/services, supply chains organize themselves in the market. It is a very real scenario for thousands of employers to be serving one brand in the eco-system. And where we are yet to settle on international standards of such a 'leadership' role and governance, it is a hard debate to have on how to re-appropriate political power so we can function with balance and health across industries, sectors, and geographies.
The key take-away in this dialogue was that during the transition period, and despite the factors, we are unable to individually (or even collectively) control if each employer and employee focuses on the quality of employment – ensuring there is clear purpose and value to the relationship, that we may be able to offer safety for each other for the time being.
Governance of Work
In this last session, we dived deeper into practice and policy. We questioned how the world of business can respond to the erosion of established regulatory frameworks, whether we need new governance structures to regulate work, work practices, and policy, and what they could look like.
Another hard reality we faced during this conversation: the issue of democracy. In a world that's so big, fast, and complex, where the frame of democracy is standing  and substance is missing for many people on the ground, how do we do right by our people?
This is where I see us business leaders and HR leaders playing a very important role. We may not be able to influence broader regulatory bodies yet, but we do have power to exercise over everyday decisions we take to deliver social, psychological, and income equality across our workforce.
Finally, Youth Perspective!
One of my key values as a leader is to drive inclusion; therefore, singling out a generation or a group is often not of interest to me. That said, the younger generation is a group I am deeply vested in – not because they are a single demographic, but because they are the future leaders of our world.
They are part of our workforce today and they are often not granted positions with influence in traditional structures. It is imperative we give them a voice… And here is what they had to say:
The most important thing on their minds regarding employment is the quality of the work experience.
They'd like to see more female leaders.
They're worried mostly about equality and sustainability.
They care to extend opportunities to emerging markets, leveraging current technologies.
They want to simplify governance.
They care deeply about inclusion and climate change.
In the next few days, I will try to summarize and group attendee questions, and list further discussion points for consideration.
One final observation and a personal wish: I was bummed to see no big-brand business leaders, no technology firm leaders and no scientists at the dialogue. Truly.
At Whirling Chief, our mission is built on a premise of bridging science with practice. There is a huge gap between where the world of business is headed and what we do in practice. The workforce studies show us numbers that are miserable:
As employees, business leaders, HR leaders, representatives, and academic leaders, we all share a stake in our future and in the evolution of business. I really wish to share more podiums with my extended community.
To hear more on topics focusing on how to further humanize the global workplace, please do subscribe to our platform and/or follow us on social media channels:

Leaders are a key element of any workplace: they playRead more…