A word about Organizational Design
In the 2016 Annual PwC Survey of Chief Executive Officers, conducted in 2014, many CEOs reported anticipating significant disruptions to their businesses during the next five years as a result of global trends.
Because some of our team members at Whirling Chief are consultants on the SESIL PIR Consulting side, we have a lot of discussions about our OD service or, more specifically, the need for structure changes and organizational design.
Organizational design is terminology used to describe different methodologies that support the identification of dysfunctional aspects of: work flow, capabilities, procedures, structures and systems, realignment to fit current business realities/goals, transition planning, and implementation.
In a combined article in 2015, PwC and strategy+business published "10 Principles of Organizational Design," summarized by the visual below.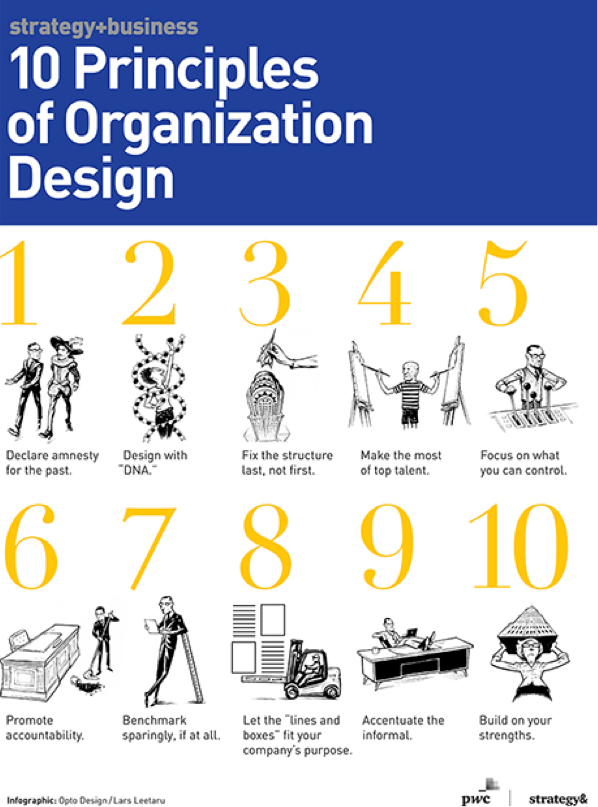 Though we love that these principles were published, we find them incomplete without identifying the proper steps to lead the work. Therefore, today we would like to share with you high levels of activities that take place in organizational design work.
First and foremost, it is very important to note that organizational design is a means to an end, not vice versa. For most successful organizations, organizational design activity leads to a more effective organization – from profitability to customer service, to internal operations or increased employee engagement.
Secondly, organizational design is never a standalone activity. It is most effective when used as a benchmark or keystone of business transformations and strategic planning discussions.
Last but not least, when we refer to organizational design, impeccability should be a desired state, recognizing there will likely be an impact to core elements of an organizational body – like systems, processes, technology, and people, which can make the organizational state significantly worse if not done well.
Some business opportunities that would benefit from organizational design thinking include, but are not limited to:
Inefficient, fragmented workflow or redundancies in effort
Lack of knowledge or capability that is required to stay competitive
Lack of leadership and management issues that impact employee state and culture
Loss in profits due to decision-making errors, information flow issues or authority issues
Ill-defined systems, complex processes, low efficiency
Decrease in employee morale or customer service or both
Now, as for the steps of the process, below is a good flow:
Developing a case for change
Assessment of current state
Design of the new organization
Plan of implementation
Leading implementation
Communication is the blood flow across these key steps, and the length of time for change would differ depending on the type and size of the business.
Next week, we will share more details on the process steps above. Please, in the meantime, feel free to share from your experiences and learning on the topic.

One of the most frequent questions I get regarding ourRead more…