Conflict as Part of Team Development
Effective teams engage in unfiltered conflict around ideas and manage differences constructively.
Google research provides great insights into how conflict presents opportunities for improvement, (e.g. www.personalityexplorer.com), our preferences in dealing with conflict (www.kilmanndiagnostics.com), and how you can handle a conflict in your team. I find the TKI (Thomas Kilman Instrument) assessment beneficial – in fact, I use this model a lot in my trainings to provide individuals with an understanding about their preferences. See graph below: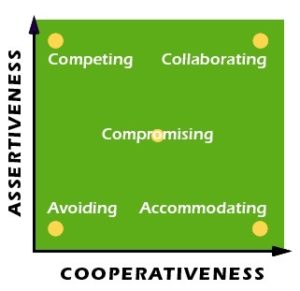 Certainly, knowing which preference you exhibit in the face of a conflict will be a real asset. And yet, to manage conflict constructively one needs to start much earlier. Long before a conflict arises. It's more about having consciousness and setting up an environment in which conflict is welcome.
Let's talk about those two elements:
Consciousness
Growing into a new form of consciousness is always highly personal & unique. It cannot be forced onto somebody. No one can be made to evolve in consciousness, even with the best of intentions – a hard truth for us as coaches and consultants, who wish to help teams to adapt. When someone is surrounded by peers and leaders (who already see the world from a more complex perspective), in a context safe enough to explore conflicts, chances are higher that the person will express his or herself.
So the way to go is for leaders to, as early as possible, express, welcome, and embrace any disagreements, misunderstandings, or conflicts. Indeed, asking for feedback at an early stage is necessary. And that goes both ways – providing and receiving feedback.
I have had the opportunity to be part of an executive leadership training in a large organization. In preparation for the f2f training, all leaders were asked to initiate a session with their teams called: "upward feedback session." The objective clearly was to raise a culture within the organization in which feedback is welcomed by knowing that potential conflict will appear, as it is part of the development of a team. (See Bruce Tuckman Model for more info).
The questions that they were asked to explore with their teams:
What is one piece of advice your team would like to give you as you continue on your development journey?
As a leader, am I investing my time in the right priorities? Am I prioritizing our time and resources effectively? What, if anything, should we stop doing? What, if anything, should we do more of?
As you notice, this is a very mild, constructive way to ask for feedback. Yet the outcomes of those discussions were amazing. Team members dared to speak up and provide insights.
Now, will this be a way to manage conflict in the long run? I would say yes, as team members will learn and acknowledge it's okay to speak up even at very early stages.
Recent Harvard studies1 have shown that effective change requires specific goals to limit attention, and willpower to practice consistently over a period of time.
Setting Up the Environment
Setting up a psychologically safe environment for people to share their perspective and opinions is equally as important as expressing conflict.
One way of making this part of a team's culture early on is to dedicate at every meeting at least 15 minutes to provide feedback. As a managing leader, it is important you take the lead by acting as a role model for others. Simply try sharing your own perception at the end of a meeting and ask for feedback. Ask everyone to contribute equally and fairly.
Statements could include the following:
"This is my observation, this is what you do and/or how you behave, and I would like you to continue to do so."
This is my observation, this is what you do and/or how you behave, and I would like you to change."
I also do the above as a team exercise – every team member gets a flipchart placed on the wall with those 2 statements. Each person walks around with the task of addressing them. This is very powerful, as everyone has an overview, recognizes similarities, and can identify actions for change from the content. If team members and the team leader do keep that awareness on hand, the climate will certainly change over time in a very constructive and positive way.
I once had a management speaker who very clearly stated: "I want to have at least on person on my team disagreeing with me – I embrace a potential conflict that arises within. This will allow me to rethink and maybe consider aspects that I didn't think of, or how  best to defend my position." For him, it was one of the most important aspects of his leadership capability – to start as early as possible to create a climate of "engaging in unfiltered conflict." And it worked.
Therefore, in essence, I recommend you be brave, voice it, state opinions and encourage others to contribute in meetings, allow for the conflict to emerge, and be an example to set the tone on how to express it.
Remember also to never blame a person when disagreeing; focus on the action or idea and share what it does to you or the greater team. Engaging in unfiltered conflict is one of the most important ingredients of establishing a healthy team.

Leaders are a key element of any workplace: they playRead more…