Engagement vs. Direction Setting:
the jury is in!
Continuing our topic of employee engagement, here is a common dilemma leaders seek us out on: Engagement or direction setting?
Over the years, we've seen this particular question come in different forms. For example, a leader recently asked, "Which is really more important: keeping my employees engaged or keep directing them?" One senior manager was curious, "The more direction I give for support, the less engaged I find my good players to be. What can I do?!" Yet another wanted to know, "Which do you perceive to be most effective – coaching or managing?"
The answer for many leaders is often very unsatisfactory and, yet, proven to be effective time after time: you need both!
Direction setting requires managers to focus on ends – what goals need to be set, and how to prioritize them to get to the end results.
Engagement requires managers to focus on the means – how, and under what circumstances, will staff reach each goal to ultimately achieve the desired end results.
Let's talk direction setting first!
Effective leaders (often effective coaches at the same time) know to be selective in which skills to use—directive or supportive—and when. How? By observing and understanding employee needs and group dynamics.
If you are at a complete loss as to when and how much to direct or support, you may want to consider better understanding how an employee's competence and commitment levels develop over time in a given role. See picture below.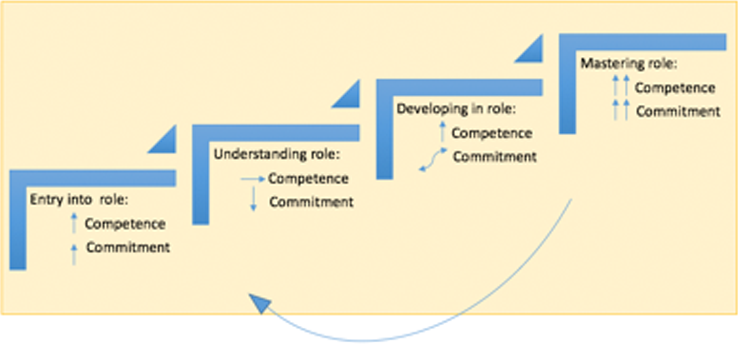 As a manager, you may want to start by showing directive and supportive behaviors together – providing both information on what to do and how to do it, and offering feedback, praise, and encouragement. What's more, as their competence develops you may want to take a more supportive approach, offering coaching which, eventually, leads to complete empowerment. It is important to remember the above pattern will repeat itself when an employee is promoted into a new position. Therefore, a manager will need to adjust their style accordingly. Also important to note is the importance of collaborative style – especially in a group setting. Another topic for another time!
As for engagement, it is defined as an employee's emotional commitment to the organization. For managers to cultivate ongoing engagement, they need to do more than just setting direction. Maintaining an engaged workforce requires managers or leaders to keep their staff informed, involved and on-board.
There is a strong correlation between direction setting and engagement. And yet, they're quite different. Engagement leads to job satisfaction, increased motivation, and morale. Alternatively, clear goal alignment leads to enhanced culture of productivity and profitability. Want a healthy culture? Drive both!

"A character is the willingness to accept responsibility for one'sRead more…