Nº 29
Welcome to the Age of Agility.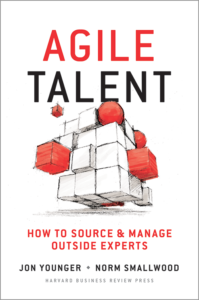 Agile Talent? Doesn't that sound passionate? 'Agile' is such a big concept across all industries right now, and having agile talent seems so fantastic!
Well, the new book Agile Talent (Harvard, 2016) is certainly fantastic – though there is a lot for us to uncover and learn in this field.
Authors Dr. Jonathan Younger and Dr. Norm Smallwood describe how public and private sector organizations have increased their reliance on external talent. This is a global trend that is growing and unmistakable, and has important implications for organizations. Advisors, contractors, and gigsters play an increasingly crucial role in the work of corporations, governments, and not-for-profit agencies; yet, too often, leaders lack an understanding of how their organizations can maximize the productivity, engagement, and satisfaction of these externals. The book defines agile talent as more than an additional source of expertise, but as a key stakeholder for organizations. As such, Agile Talent looks to facilitate greater understanding of how leading organizations relate to and partner with agile talent. If you have not checked out the book, please do so here. If you are curious to hear about the research and findings directly from Dr. Younger, visit us on Wednesday and Friday for interview video clips.

"A character is the willingness to accept responsibility for one'sRead more…