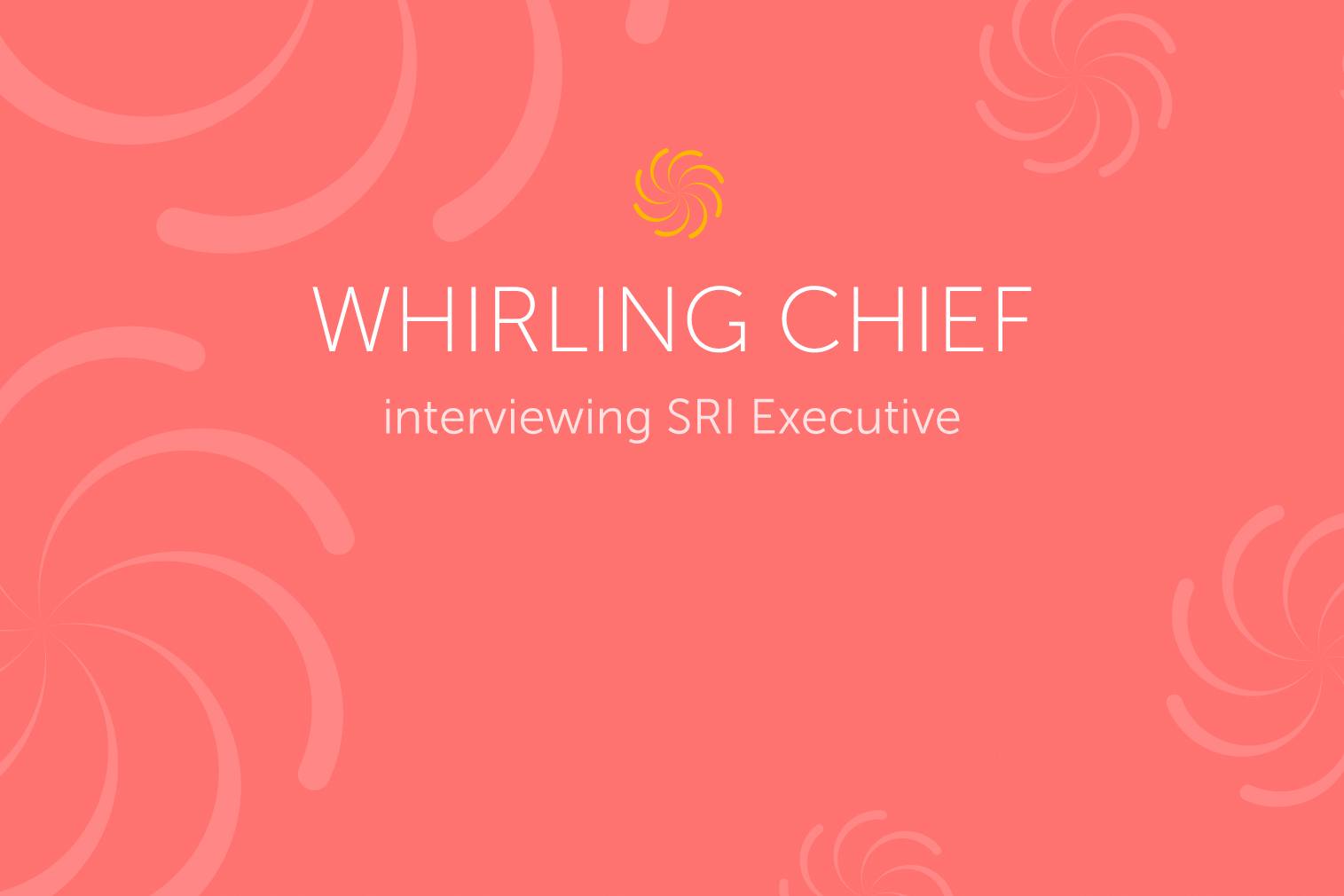 Nº 110
Work Evolution in the Public Sector
Founded in 1997 by Seamus and Helen McGardle, SRI Executive Search was initially conceived as an executive search firm focused solely on the Not-For-Profit and Life Science sector. Since then, the organization has evolved and developed, becoming a global consulting practice. Specializing in Executive Search, Diversity, Leadership Development, and Board Services, SRI Executive offers a variety of services in the Not-For-Profit and Life Sciences arena.
As there is so much development in these sectors, we asked Seamus McGardle, Managing Director of SRI Executive, about the shift in the business context and the impact he is seeing across organizations.
Whirling Chief: Seamus, can you tell us a little bit about SRI Executive's background and your niche expertise in Life Sciences and the Public Sector?
Seamus McGardle: Establish in 1997, SRI was originally conceived as a search practice that could support the life science sector within Ireland initially and then further afield. This was seen as a niche market, as search practices did not fully understand the life science sector and the expertise required to identify, assess, and evaluate scientists and technical experts. From there the practice grew to other areas such as the NGO, IGO, and development sectors due in part to our understanding of these areas and our interest in supporting organisations that are seeking to make a difference in today's environment.
Whirling Chief:In 2015, PwC published research citing top concerns for CEOs. The top three, in order, were Regulation, Talent, and Government. How do you see the changes in the business environment resonate with the public sector?
Seamus McGardle: In today's working environment, one must be cognizant of the economic landscape companies and organizations are seeking to make strategic partnerships between both the private sector and the public sector to become more relevant. Organizations are also conscious that the traditional ways of sourcing funding are no longer as viable, and therefore they are seeking out more innovative ways of accessing funding. Funding roles are becoming more important for this reason.
In line with this, the organizational strategy needs refining, and companies are conscious that their strategy needs to speak to today's polices and global issues.
Whirling Chief: As the world is evolving, how is the Talent Acquisition space evolving?
Seamus McGardle: Clients are now seeking candidates that not only match the technical capabilities of the position, but have skills in leadership and the ability to interact with external parties, and demonstrate innovative thinking to look outside the "box" for less traditional answers to issues.
Whirling Chief: What impact will technology and digitalization have in your field of expertise?
Seamus McGardle: While technology will always play a part in what we do, and support how we are able to work with clients and candidates in any part of the world, there will never be a replacement for human contact. Verbal communication on a one to one basis or in a face to face environment, where you can observe and measure the behaviours and traits that are unique to everyone, can tell you more about a person than any online assessment. Technology has its place and has made it easier to connect, but a conversation will always out-trump any nonhuman interaction.
Whirling Chief: We see a lot of capability building strategy redesign in our work with NGOs. How do you explain that within the current context?
Seamus McGardle: A lot of today's organisations are under pressure to now deliver something more than their original mandate. They are taking "stock" of their contribution to the world and how relevant they are in the current economic environment. Many organisations are funded from the same funding partners, so each organisation is now looking at what they can change, how they can contribute in a more sustainable way, and how their strategy and mandate will support the SDG's. To do this, they need to understand how they can deliver with their current workforce, how to motivate their staff, and how to go about a change management programme that is relevant and workable to achieve the organisational goals.
Whirling Chief: How is sourcing for candidates different today?
Seamus McGardle: The sourcing of candidates is more structured. Clients have become more discerning as they want the best and highest calibre of candidate for the role. It is no longer the case that you can just place an advertisement and they will apply. It is the candidates that are not seeking new opportunities, those candidates that are passive, that are the most appealing. There is more direct outreach in identifying potential candidates, looking at profiles online and drilling down through those profiles to find that one thing that makes that candidate stand out.
Whirling Chief: Research shows us the talent pool will become more and more specialized. How should organizations think about this evolution?
Seamus McGardle: Organisations are already aware of how specialised candidates have become. They are seeking these candidates out when looking for their next CFO, COO, or HR Director, to bring in another dimension to the position and the organisation. You will always have the traditional organisations that will resist this change, but most are aware that the change is necessary and needed to survive.
Whirling Chief: You launched the Fit for Purpose framework for organizations in the public sector. Can you tell us a bit more about your offering?
Seamus McGardle: In recent years, the international development landscape has undergone a significant shift in framing the expectations of key stakeholders. 2015 marked the creation of many landmark agreements, such as the Paris Agreement within the United Nations Framework Convention on Climate Change (UNFCCC); the Addis Ababa Action Agenda (AAAA) of the Third International Conference on Financing for Development; and the broader 2030 Agenda for Sustainable Development Transforming our World, with its 17 Sustainable Development Goals (SDGs) and 169 targets. Consequently, many governments were compelled to re-think their positions, and assess how developmental aid would be used to meet these new challenges.
As with many past recipients of development assistance, now donors themselves, new relationships are continually being created as a result. However, institutionally the landscape remains far from static. With the creation of the Asia Infrastructure and Investment Bank, the BRICS New Development Bank, the Green Climate Fund, the Silk Road Fund, and the World Green Economy Organisation, new players are emerging that seek to respond directly to the economic growth ambitions of developing countries, while respecting the global imperatives that make achieving the Sustainable Development Goals, so essential.
All of this seems swift, perceptive, and responsive, but is it? The question is, are the development agencies and institutions really adjusting to this fast-changing landscape, or are they simply re-packaging tried and trusted services to a perceived change in demand? Do we really take the time needed to understand the changes around us and adjust accordingly? Is what we do as unique and useful as it was five years ago, or have markets changed and spaces become more crowded? Are the skills we have in-house, and the partnerships we trust, still best suited to tackle the issues of today? Can new institutions create an added value that is unique? Will they be able to strike the balance between "people," "planet," and "prosperity" that has all too often eluded us so far?
This is where our Fit for Purpose programme evolved from: our understanding of the challenges faced, and the ability to succinctly articulate these challenges and the change needed for organisations to move forward. The Fit for Purpose is a holistic solution for an organisation and it is designed to provide the tools and the platform for organisations to change.
Whirling Chief: Any tips for hiring managers of the future?
Seamus McGardle: The key is to hire people who have the ability to stretch their capability into other disciplines and roles.
Whirling Chief: Thank you very much Seamus. It was a pleasure talking to you.

I have been on the road the past four weeks.Read more…