3 Key Ingredients of Effective Teams
Let's shift now to another important aspect of team development: having team members agree and commit to final decisions, and stick to the agreed-upon plans of action.
I'm sure we have all faced those moments – spending lots of time developing "ground rules," then trying to commit to those and live by them. I'd like to share with you three aspects you can pay attention to when agreeing and committing to team decision making.
1) Involvement
Commitment to final decisions is vital, as each team member knows – all participants should be heard. The time spent to give everyone a voice in the team is important, as it creates ownership and a sense of "we're all in this together." It is harder to get buy-in if people haven't been involved in the decision-making process from the beginning.
What if a harsh decision is needed – e.g. reducing the number of individuals on a team or selling parts of the business? Can we discuss this amongst team members before laying them off? What if the next level manager or even CEO makes a top down decision? Does an extreme situation call for extreme measures? What about the trust in the team? Will it be still there, especially if every now and then someone has the power to step in and make autocratic decisions? These are a small sample of very good questions Frederic Laloux raises in his book Reinventing Organizations. He illustrates how an automotive company, dealt with exactly that very challenge, offered a potential solution. Instead of a top down approach, he sat together with the team and asked for advise on how to best deal with their specific situation. He took a bold step this way, allowing transparency as well as vulnerability. And yet, it allowed people to engage. By getting ahead of the news, he allowed employees to devise really good ideas on how to handle the situation. As a result, there was a commitment for success not only in the team but within the organization.
In fact, I was once entrusted during a leadership program with coaching a pair of leaders who faced a very similar situation. They came from a small production site, and after some years of uncertainty HQ decided to close it. The onsite management team had the task to ensure productivity till the final day, while everybody knew they would soon be out of a job. Transparency, as well as ongoing communication, was essential. The leaders made a commitment to keeping the energy high, while at the same time taking very good care of and spending time with the individuals to hear their voices about any insecurities they were feeling, and then supporting them in depth throughout the new recruitment process.
In difficult scenarios, it is vital we remind ourselves that any situation can be approached from fear and separation, or from love and connection. In this particular experience, the client chose the path of love and connection. During this time, I witnessed all of them honoring all parts of the change, of the team, the individuals, the productivity, the uncertainty, and, and, and…They all left with a great sense of commitment – to carry the "ship" until the very last day.
2) Cultural Behaviors
Additionally, one wants to look at any cultural implication, especially since these days many of us are working on a global team. It's always so much easier to discuss and agree in a f2f, and yet how many times are we really in a position to do so?I really like the model that Richard Lewis outlines (www.crossculture.com).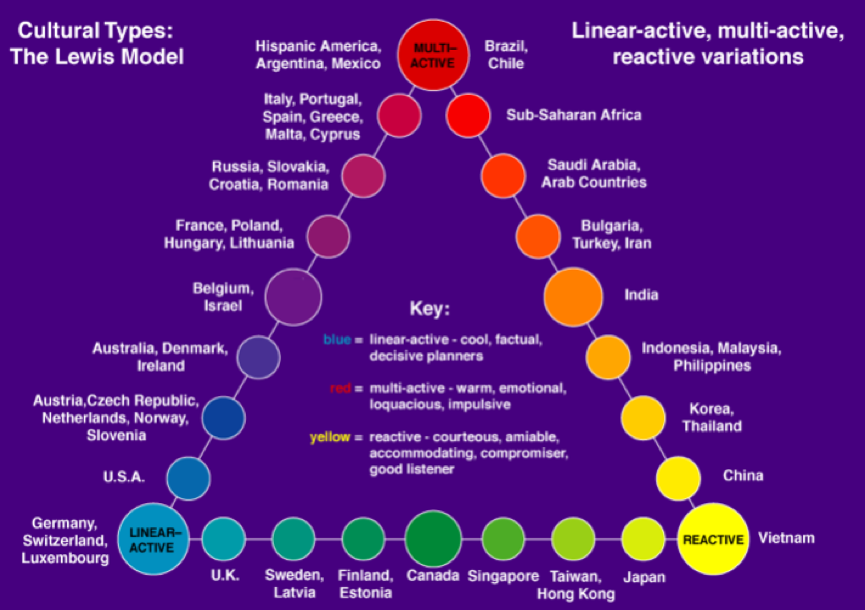 The Lewis Model was developed in the 1990s.
Lewis, after visiting 135 countries and working in more than 20 of them, came to the conclusion that humans can be divided into 3 clear categories, based NOT on nationality or religion but on BEHAVIOR. He named his typologies Linear-active, Multi-active and Reactive.
Cultural behavior, of course, could be in itself an entirely different article to write about. ☺
However, please do keep in mind that in your process of decision making and agreeing on a plan of action, you will need to consider the differences in cultural behavior in order to avoid misunderstandings. I am hoping the above chart can help you with this.
Next to cultural differences, one need also be aware of potentially different personalities.
3) Understanding Learning Styles
Finally, another important aspect concerns getting to know individuals in the team and understanding what kind of personalities they bring to the table. Learning Styles, for example, is a great way (and a real good icebreaker!) for your team to explore different styles within your team. (http://www.learning-styles-online.com/overview/)In this tool, you will find four categories of learning styles:
The reflectors would need and want a lot of information before agreeing to a decision.
The theorists need some high level information and outline of a project – with that high level understanding, they are good to go.
The activists need very little if at all information, they need to like the project.
The pragmatists want to try and decide while implementing on the project.
It's an easy, insightful, and fun team assessment and exercise you can conduct. I have used it several times, with great success. Typically, each of us is a mix of all four, however we often find a stronger preference in one of them. Then, as a team, you need and want a strong variety of all preferences, recognizing it can be a challenge to come to consensus and a shared sense of commitment now – a fun challenge.
Resolving for different learning styles will also serve to build a stronger base to then continue with the team to discuss the aspect of decision making and commitment.

I have been on the road the past four weeks.Read more…