My Dispatch from Davos
Last week, I had the honor of being one of 600 women taking part in sessions at the World Economic Forum. As much as I loved joining the important conversations (and having no bathroom lines – a first!), I have to admit I found it impossible to take in all the information and digest at once. Nevertheless, if you were to ask about my biggest takeaway, I'd say that we humans are far more complex than we give ourselves (and each other) credit for and, if we want to fully embrace the changes ahead, we first need to go back to the basics. 

Before I try to summarize my notes from two memorable conversations I had, I'd like to share some general statistics (which presenters frequently referred to) you may find interesting:
It is calculated that in 2017, the world's 8 richest people held the same wealth as the poorest 50% of the global population!
Eighty-two percent of the wealth generated last year went to the richest 1% of the global population, while the 3.7 billion people who make up the poorest half of the world saw NO increase in their wealth.
At the current rates of change, it will take 217 years to close the gap in pay and employment opportunities between women and men.
The number of women in national parliaments worldwide is 23%, while in the US only 6% of Fortune 500 companies are run by women. Notably, WEF was co-chaired by 8 women this year, and no men!
4 million jobs are projected to be displaced in the US by 2026, and those who undergo retraining to make a job transition could see an average wage increase of $15,000.
According to happiness guru Dan Buettner, only 40% of our emotional state is dictated by our genes and fifteen percent by our circumstances. (He urges us to pick a job we love, socialize 7 to 8 hours each day, be happily in love, own a dog, and live in the right place. Woof, good luck with all that!)
Worldwide more than 320 million of us suffer from depression and 25% feel we have NO one to share our stress with. According to topic expert, Dr. P. Murali Doraiswamy, the numbers are a reflection of a complex interaction between our environments, brain chemistry, and culture, where the majority lack self-awareness and dealing with emotions is still considered taboo.

Secondly, I'd love to share some my most favorite quotes (and there were plenty to choose from!):
"Trust must be the highest value in your company or you're in trouble!"
CEO of Salesforce, Marc Benioff
"Have we actually learned the lessons of history? We haven't really!"
 Chancellor of Germany, Angela Merkel
"To gain success, a person will need a high EQ; if you don't want to lose quickly, you will need a high IQ, and if you want to be respected, you need a high LQ – the IQ of love."
CEO of Ali Baba, Jack Ma
"… Perhaps we should ask scientists and experts and poets – especially poets! – how we should govern ownership of data…"
Historian, Yuval Noah Harari

Onto the more 'serious' topics:
On Digital Economy & Society…
Although we are at the very early stages of the 21st century, the Fourth Industrial Revolution is being referred to as "the greatest transformation" human civilization has ever experienced. Why? Three main reasons:
Unlike any other industrial evolutions we have experienced, this time, with current technological advancements, we are able to go way beyond simple dimensions of 'doing.' In other words, technology is not just evolving the way we do business. For example, how we manufacture and produce things; it is actually evolving the way we consider and use our planet's resources, the way we bond,  the way we learn, and the way we work and govern ourselves. Its scope, speed, and reach are unprecedented.
The current technologies are running on knowledge, meaning we have access and availability to collect, merge, and interpret immense amounts of data. Many states, businesses, and institutions already run on data. Further, with advanced algorithmic technologies like artificial intelligence, they are able to analyze the large chunks of data they have access to, to understand how we, human beings, function physically, psychologically, and spiritually. For the first time in human history it may be so that a company or an entity knows more about us individually and collectively than we know about ourselves.
Though we have advanced tremendously as a society over decades, we continue to struggle with immense gaps in equality, access, free-will, environment resources, and inclusion.
It is also interesting to note that productivity around the world has declined despite exponential increases in technological progress and investment in innovation. For example, in the US, labour productivity measured in output per hour reportedly grew an annual average of 2.4% between 1948 and 1983, then rose to 2.7% between 2000 and 2007, and later fell to 1.3% between 2007 and 2015.
Picture from the streets of Tehran by Iranian artist Mehdi Ghadyanloo, who reveals how art can transform.
So, why should we care?
Well, there are a lot of things we don't quite know yet about this 'great transformation,' and many topics deserve truly targeted attention. The conversation about the future of business and our work experiences seems to have just begun. Perhaps the most important thing for us is to give ourselves and each other the necessary space to care about our humanity first, because we'll likely have a growing need for it. Being conscious about choices we make, from how we spend our time to what we expose ourselves to, seems to be most critical at this particular time. AND, we must continue to build bridges through our voice in the conversation.
On Education, Gender, Work…
On our Whirling Chief platform, we have been discussing for over a year now how digitalization, globalization, and democratization are transforming the ways we work and learn, and disrupting some of the intake systems that have remained static for several decades. It should come as no surprise to our readers to hear it is clear we need to rethink the way we work individually, with technology, with each other, and collectively.
Across all sessions that touched on education, gender, and work, these common key issues were discussed:
Care & careers at the intersection of leisure and non-leisure activities, paid and unpaid jobs – especially for women and minority groups: It may be surprising for some to hear gender gaps in terms of paid work are partly a reflection of gender gaps in unpaid work. I guess the issue speaks for itself but as an example, on average, women work 50 minutes more per day than men, in terms of both paid and unpaid work combined, according to the data. The question remains: How do we drive equality across all participating groups?
Job creation: In many countries we need economies to keep pace with demographic dynamics and employment investments.  Also, young people seems to be disproportionately affected by global unemployment; the unemployment rate for youth is nearly three times higher than it is for the adult population. Further, with the rise of robotics now, we have a number of colleagues at risk of losing their jobs. We must ask: How do we assure equal employment opportunities for all?
Gender parity and dynamics: My biggest takeaway was that, in order to unlock new possibilities, we need more business leaders to drive towards equity and inclusion, and not shy away from tackling individual and organizational barriers. We do have a choice in the matter. Please do not remain silent when it comes to equity and equality!
Specialized education and the 21st century curriculum: I think it is fair to say there was a consensus that no single skill set or area of expertise is likely to be able to sustain a long-term career in the economies of 21st century. Our educational institutions need to reshape ways of operating and teaching to provide both in-depth subject expertise and help develop an ability for people to make inter-disciplinary connections. The question remains how do we support re-skilling and curriculum changes during the transition period?
New work models: Though the contingent workforce is increasing across the globe, we seem to have governments lagging behind in support. In many countries, there are no legitimate contractual agreements, benefits, or protections to accommodate some of the creative ways individuals are collaborating with corporations. So the, how do we provide equal access to all of our workforce?

For me, there was an unfortunate lack of opportunity to discuss two topics – perhaps it was discussed behind closed doors:
The concept of leadership and a leaders' role in relation to all these economic, technological, and societal advancements. Though it is very obvious that the idea of leadership evolving, just as business and society themselves evolve, it is becoming clearer (at least to me) that what we need to fear is not how technologies like artificial intelligence will 'outsmart' us, but how the people in power will use these technologies… Will our 'leaders' choose to leverage data/technology to control and manipulate us, or serve and improve the qualities of our lives? And the concept of leadership needs to evolve from having power, status, and title to serving the community.
Our ways of 'being' and 'doing' as humans. Again, it is very obvious we are effected by all the change surrounding us; however, there is not enough emphasis on the relationships we have with ourselves, each other, and our environments. As an example, our relationship to technology is two-sided. We build technology to gain efficiencies and yet, at the same time, we overwhelm ourselves and each other by the pace we are co-creating. Our relationship to economy is also two-sided. As a consumer, we want to buy faster, cheaper, and better and yet, by doing so, we are contributing to the inequality and health issues. There were really no sessions focused on how we can gain better self-awareness and teach others to live more in tune with our 'factory settings.'

What does it all mean for me as a business leader?
Recognize the pace of change is overwhelming for the majority of us and don't try to brush it off.
Choose your words thoughtfully. For a long time now, we have adopted terminology from economists to run our businesses which, in return, moved us away from the core purpose of business itself. Challenge your brain and yourself by re-introducing an unknown: a more compassionate vocabulary.
Focus on the 'whole' self. Many of us have arrived at our executive seats through the power of doing. To our credit, that was what was needed for a long time; we needed to grow our economies. But what the world needs now from us is something slightly different. What will keep us in our seats is who we are (our WHY), NOT what we do; therefore, invest in knowing your 'whole' self to grow awareness and authenticity.
Build lasting connections. Whether a state head or a business leader, what we are seeking from one another is safety and security. Trust has been a major part of our growingly shared economies and it will be more so going into 21st century. Look for differentiated ways to connect to people.
Strive for simplicity. The worlds we live and work in require too much of us. Grow a love relationship with technology, data, and optimization. Whatever fails to introduce ease into the system, rethink it twice.
Finally, inject hope. Practice patience, active listening, and engage in joy creation. It is not our legacies that make people walk the extra mile, but the hope we insert in their hearts.

In terms of final notes, I think Pope Francis said it very well:
"The theme chosen for this year's Forum – Creating a Shared Future in a Fractured World – is very timely. I trust that it will assist in guiding your deliberations as you seek better foundations for building inclusive, just and supportive societies, capable of restoring dignity to those who live with great uncertainty and who are unable to dream of a better world."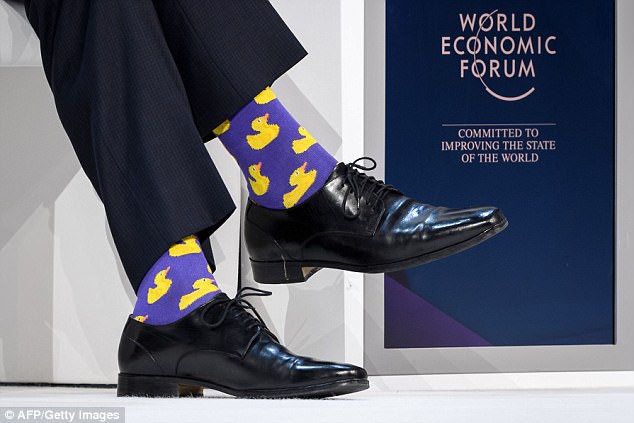 Let's hope it does. And for the record, I have a whole new level of admiration for Jack Ma, the CEO of Ali Baba. He was the star of this show for me; not the mention I am totally and 200% in with Trudeau on happy socks. I am a firm believer that the world needs more duckies – especially in our business environments.

I have been on the road the past four weeks.Read more…